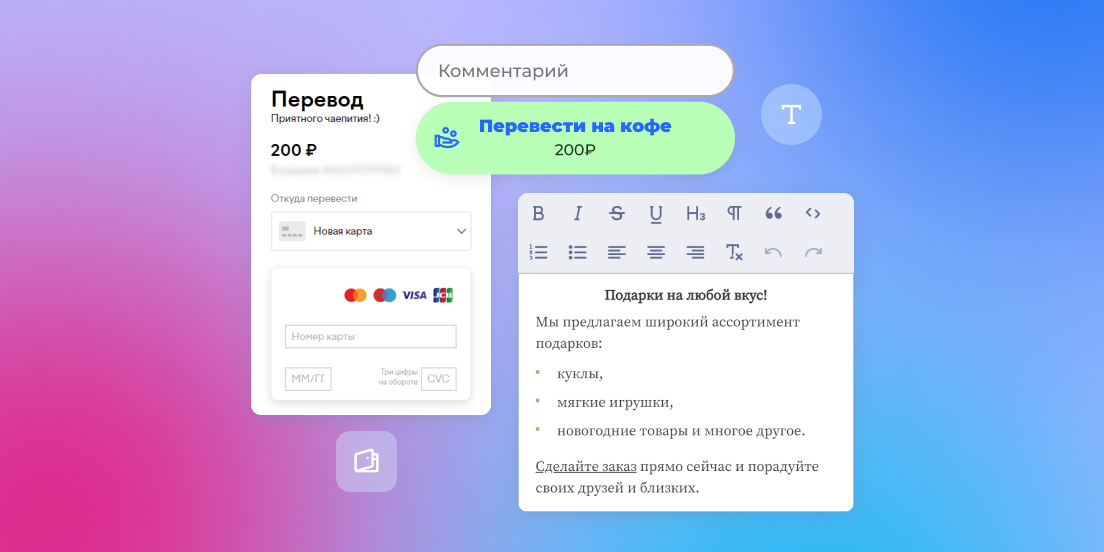 Important updates of Nethouse.id: online transactions receiving, text editor
Have you already created a link for every purpose in our
Nethouse.id
service? Now you have even more reasons to do it because of two important updates:
1. Online transactions receiving
Now you can get online transactions and donations from your clients and subscribers. There are all popular payments methods in single interface, even the payments by bank cards. Transactions fee is 3.5%. You can activate this option in several minutes in the "Payments" settings. You don't need to register as a legal entity or sole proprietor. You can make several buttons with fixed sums and/or one button with a random sum and also add a required or optional field for a comment to each of them.
2. "Text" block editor
Diversify your page design:
change the font: it can be bold, italic, underlined or strikethrough;
add lists, headers, links, quotations, paragraphs or html;
align the text to the left side, right side or center.
What to do if you still don't have an .id page?
Go to nethouse.id and click the "Create ID" button. If you already have an account of any Nethouse service and you are logged in — just choose the page address and proceed to filling. If you don't have an account yet you can test our service without registration with the "Try now" button or create a new account using your email, social networks or search engines.
Why do you need to create an .id right now?
Our service is completely free. No subscription or hidden fees. Just 7 minutes, and you're done! Take a good-looking page address now, before anyone else does! Don't forget to share the result on social networks and messengers.